There are about 20.4 million veterans in America, and they make up less than 10 percent of the adult population in the country, according to the Pew Research Center.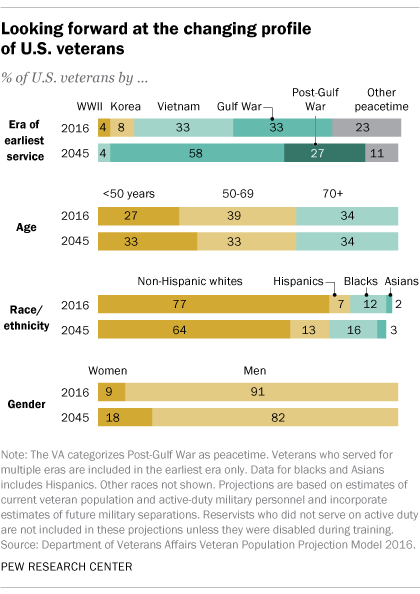 The center offers these facts about those who have served in the military and how they're changing:
Gulf War-era veterans now account for the largest share of all U.S. Veterans, surpassing Vietnam-era veterans in 2016.

The share of the U.S. population with military experience is declining with 7 percent of U.S. adults as veterans in 2016, down from 18 per cent in 1980.

More women will be veterans with the 9 percent in 2016 increasing to 18 percent by 2045.

Fewer members of Congress have prior military experience with 20 percent of senators and 19 percent in the current Congress having served compared to 81 percent of Senators and 75 percent of House members after the Korean War.

The Department of Veterans Affairs receives a low favorability rating.
See the National Coalition for Homeless Veterans' information on five ways you can help veterans.
And, on Veterans Day, we can think about ways to promote peace.
See a list on "50 Ways to Promote Peace" from Ben & Jerry's.
Best wishes to you and your family on Veterans Day.